Award winning agent
Sandersons UK featured in the Best Estate Agent Guide for a 6th year running.
---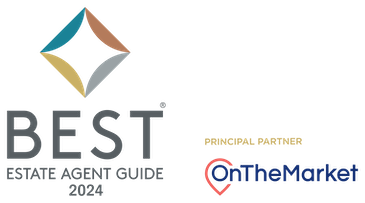 We, at Sandersons UK, are really proud to have been recognised as a member of a very elite club - the top 5% of estate agents in terms of performance and quality of customer service - for the sixth year in a row since the awards inception in 2019.
Our business has grown largely from personal recommendations, but in the absence of knowing someone who has used us, it can be hard to decide which agent is the best to represent you. We all know that they all make claims to be the best. We believe in evidencing those claims which is why we are so proud to have been recognised as we have.
The Property Academy, alongside the UK's leading property portal Rightmove, have carried out another comprehensive assessment across the industry. Over 3 billion data points were analysed against roughly 26,000 branches across the country and over 1 million property listings. You can read more about their research methodology by clicking here.
Agents were rightly judged on what consumers deemed the three most important factors, customer service, marketing and results. Sandersons have been recognised as one of the very best agents in our area and in the top 5% of the country.
---
Rightmove shared the results of their study. For sales, on average:
• Buyers clicked to view more details of our properties 19% more than other agents in our areas. This is due to the attention we put into our presentation & marketing.
• We received 64% more email leads per property compared to other agents in our area. By not using us, you could be missing out on over half of the potential buyers out there as we know they won't generate the same level of enquiries.
• We are 10% more likely to agree a sale compared to other agents in our areas.
• We agreed a sale 27% faster compared to other agents in our area.
---
For lettings, on average:
• We receive 3 times more email leads than other agents in our areas. This gives our landlords a greater choice of tenant and enables us to achieve the highest possible monthly rent.
• Our lets are agreed 28% faster compared to other agents in our area. The calibre of our marketing generates enquiries quickly and creates a sense of urgency. We constantly review the efficiency of our procedures while using the best technology and systems to process applications.
• Our listings are clicked 75% more compared to other agents in our areas. This is due to the attention we put into our presentation, photography & marketing. A higher click through to our listings generates more enquiries.
Source: Rightmove data, Best Estate Agent Guide 2024 industry study
---
British Property Awards
Our partner office in Wells, Somerset has picked up the GOLD award for the second year running after several rounds of evaluation. Our Canterbury office also received the GOLD award in 2022.
'Their team performed outstandingly throughout the extensive judging period, which focused on customer service levels.' - British Property Awards
---
The Negotiator Awards
Our team was thrilled to receive an honorable mention for the Land & New Homes Specialist of the Year award. The Negotiator Awards is the UK's leading independent awards programme for estate and letting agents, their suppliers, and the residential property industry. It has been established for 14 years and has become, through an impeccable reputation for fairness and transparency, the most prestigious and valuable awards for agents to be associated with.
---
Lifesycle Innovation Award
This award recognises the ongoing innovation we have made as a business to our systems, processes, efficiencies and most importantly, to our customer experience over the last 12 months. The award was presented by Iceberg Digital, who are a leading technology provider in the property industry.