Help to buy scheme
The cost of housing has increased dramatically compared to wages over the last few years. This trend has been particularly marked in areas close to London and so has hit us in the South and South East. It has become increasingly difficult to take the first step and get on the housing ladder.

We are, therefore, really pleased to be working in association with partners who are able to offer the following schemes to enable you to own your own home.
Help to Buy Equity Loan
We are proud to work with Developers approved under the Government backed Help to Buy Scheme to offer this as method of purchase. Equity loans are available to just first time buyers looking to move into a new build home with a value up to £437,600. Please note, you must be a first time buyer to be eligible for the Help to Buy: Equity Loan scheme.
With a Help to Buy: Equity Loan, you will need to contribute a 5% cash deposit, then the Government lends you up to 20% of the cost of your newly built home (total 25% deposit). Then you will have a 75% mortgage on the remainder.
You won't be charged loan fees on the 20% loan for the first five years of owning your home, then you will be charged interest at a rate of 1.75% on the outstanding amount of the equity loan. From the fifth anniversary of the loan this fee will increase each year by the increase (if any) in RPI plus 2%. The equity loan must be repaid after 25 years, or when the property is sold, whichever is earlier.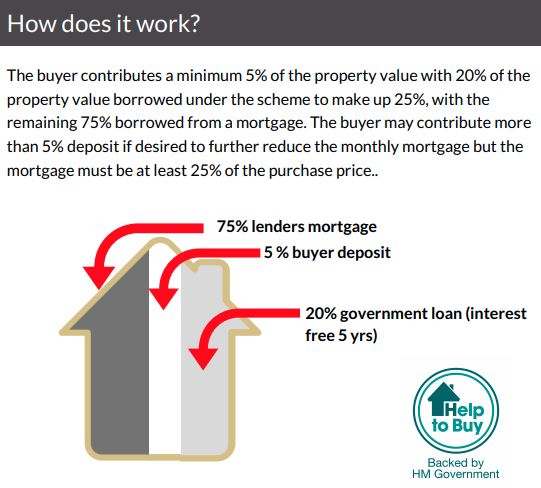 Help to Buy mortgage guarantee
This is a guarantee provided to the lender (the mortgage company) and not to you as the buyer. Therefore, the lender will have to satisfy their own criteria that you can afford the repayments. You are only required to have a 5% deposit. We can advise you on the lenders that offer this product.
To be eligible the home you buy must
have a purchase price of £600,000 or less
be the only home you own
not be rented out after you buy it
not be bought through shared ownership, shared equity or any other publicly funded mortgage scheme
be bought with a repayment (rather than an interest-only) mortgage
---
Buying through shared ownership
If outright purchase is not an option for you, this scheme offers an alternative to renting. You can buy an initial share in a new home that you can afford, helping you into home ownership in manageable stages. Shared ownership is always leasehold.
The Housing Association or Registered Provider will offer initial shares of between 25% - 75% of the full purchase price. You pay a subsidised rent on the remaining share that the Housing Association or Registered Provider still own. The combined monthly cost of mortgage and rent will normally be less than if you were purchasing the property outright.
In the future you can simply sell your share for its value at the time or alternatively you can purchase further shares in your home.
With most properties you are eventually able to own the property outright if you wish to, although there are some restrictions on rural schemes. You are eligible for the scheme if your household earns £80,000 a year or less (or £90,000 a year or less in London) and any of the following apply:
you are a first-time buyer
you used to own a home, but can't afford to buy one now
you are an existing shared owner
THe criteria can vary but you need to be able to prove a connection to the local area. e.g. if you were born there, family are currently living there, you have lived there for 2-5 years or currently have permanent work there.
---
How to Apply

You will need to register with the Help to Buy scheme, verify your email address and then complete the application form. When you have done this you will have an account with the scheme and a unique approval number. We will then be able to show you any property that we have available.
During the application process you will be asked a variety of questions regarding your status. Your answers will be stored in your account. Please ensure you update the details held if any of your circumstances change while you are waiting for a suitable property to become available.
How much does it cost?
When you find a property that you want to buy, you will need to pay a shared ownership reservation fee. The amount varies depending on the developer, but it is typically no greater than £500. When you complete on the purchase, this fee is returned to you. However, if you pull out or the sale falls through this is non-refundable.
Selling your home
If you own a share of your home, the housing association has the right to buy it first. This is known as 'first refusal'. The housing association also has the right to find a buyer for your home. In the vast majority of cases, they require sole agency for a six week period. If they do not sell the property in that time, you can then instruct an estate agent.
If you own 100% of your home, you can sell it yourself.
Please contact us today to discuss any of these schemes in more detail